What happened?
A packed village hall on the weekend of 29 and 30 November was very well entertained by Nick Burridge and Neil Forster at the Smile Out Loud book launch. For those who don't know Smile Out Loud is a book of poems and prose by Nick Burridge looking at aspects of modern life from a lighter angle. The 98-page book also contains beautiful illustrations by Neil Forster.
On both nights Nick read from a number of his poems including an explanation of his inspiration.
The evenings started with Nick reading his poem Dell Boy, penned after his experience when calling a computer helpline after his new computer died! This was followed by his amusing poem to D.O.R.I.S. (Digitally Operated Route Information System or
SatNav) and other stories about modern life and tales from the Taj Mahal, the London Olympics, Royal Ascot and our very own Sherston!
Our club president, Neil Forster also kept the crowd enthralled with stories of his life as a foremost portrait artist.
He explained the approach he takes to capture not only the familiar physical appearance, but the personality of his subjects. He also included a moving story about his visit to see the gorillas of Rwanda in 1986.
There was always going to be an appearance by 'Dame' Kevin Smith but Kevin also performed as Arthur Shakespeare (William's lesser-known and very brummie brother), a Welsh outdoor-clothing salesman advising Ernest Shackleton, Guy Fawkes and Sherston's lesser known 1016 hero Douglas Gee (could Nick's inspiration have been our very own Matty G?)
A silent auction of three paintings by Neil, two fantastic commemorative collages of the London Olympics by Nick and a hand-crafted coffee table by Andrew Tremellen also added to the fundraising on the weekend. The Saturday evening included the draw for the Christmas Raffle with a first prize of a £500 hamper crammed with Christmas goodies.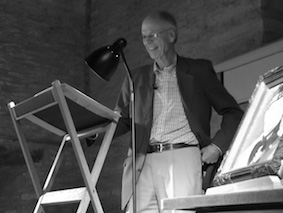 How it started?
John Weeks has long been a friend of Sherston Magna and claims he can still remember the days when he played! He explained to the Sherston Cliffhanger how 'Smile Out Loud' came about.
'I thought you all might like to know how a chance remark made to Nick Burridge to record his poems that he had written and used whilst he was Chairman of Sherston Probus Club to close our monthly meetings.
These embryo remarks also resulted in Neil Foster offering his artistic skills to illustrate the book. Members of Sherston
Magna got to know Nick when he starting taking many photographs of players in action which were displayed as part of the Sherston Arts Festival. It was suggested that members formed a committee to work towards using the photographs and the book to assist fund raising for new practice and training facilities in Pinkney Park.'
'The results are now history with two great evenings of entertainment.
The performances of Kevin Smith will remind many people of the evenings. Many thanks must go to Nick and Neil amply guided by the administration skills of James Kutchera, Tony Towle, John Burgess and of course the lady members of SMCC.'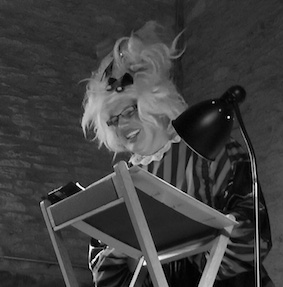 After the launch
After the launch weekend, the remaining books were offered for sale at the second Sherston Market on Saturday 14 December. Thanks to James Kutchera for sitting outside and manning the stand. The colour book was on sale for £14 and a black and white version for £9 (still available from the post office). There were also audio CDs (£2) and video DVDs (£4) of the live performance – including the unforgettable performance of 'Dame' Kevin Smith.
The results so far
The two evenings have so far raised a quite remarkable £5,200 towards Sherston Magna's new practice facilities. An enormous debt of gratitude is owed by the club to Nick Burridge for writing and putting on such a great show.